Euro Sanke Revealed!
I have seen several explanations of how to dismantle a sanke keg, however most of these, if not all, are about the American style kegs. Most of these have a split ring keeping the valve in place although apparently some Miller kegs have screw type fittings.
Obviously the keg I found was different to all of these and I had no idea as to how to get into it. I believe the keg is a European sanke, which has a screw in / threaded valve and a different style anti-tamper / safety catch to the miller kegs.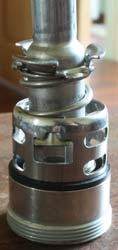 The first thing to do to get into the keg is let the pressure out. Some people say a handy way is to lay it down and use a big spanner to depress the valve; I just attached a keg coupler and engaged it. The first time I did this, beer flew into the air and then rained down on me. Amusing as this was, I would advise pointing the keg at something you donít mind drenching in stale beer. Pressure can build up if the keg is left lying around, so depressurise before opening regardless of having done it before. I read a story in which someone took a keg apart and managed to shoot the spear through two floors of their house. Probably best avoided.
Next, unscrew the valve. This can be done with a basin wrench, which is available at DIY stores. Place the wrench so that the prongs meet with the tabs in the valve and simply unscrew. I was worried there would be a left hand thread or something similar, but luckily there wasnít.
This felt like a major step forward, and I was quite happy until I realised, as with the Miller style threaded valves, there was a safety latch. The Miller safety latch apparently comprises of a hinged piece of metal which can be moved by pushing a screw driver through the seal (after pressing it down somehow). The euro sanke is slightly different, although jamming a screwdriver in it has the same effect.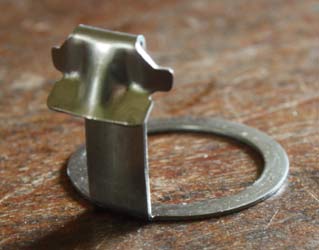 Firstly I took a piece of plank and cut a few notches to allow me to use it as a lever to push down the valve. Then I took a screw driver, pushed it into the valve and then, very unscientifically, hit it with a lump hammer. It should be noted that this was after an hour or two of frustration and was verging on a last ditch attempt. Some more care should probably be taken as damage to the seal will render the keg useless (for storing beer). The safety release catch was located just clockwise of the tab which had an s engraved on it. It can just about be seen be shining a torch through into the seal. I noticed that by depressing it slightly I was able to lift the spear but not all the way out. Thatís when it was hit by a lump hammer.
The spear can be further disassembled by pressing down the clip on the lower side and twisting. The spring is quite strong, so this is quite difficult. Iím not sure if this is entirely necessary either. I managed to get it back together by clamping in a vice and just pressing hard, but it wasnít particularly easy.
I thought that some photos of what I found inside would probably help the next person to attempt this, so here they are.